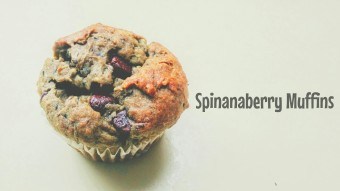 I've got a picky eater on my hands. A picky eater that loves baked goods. And chocolate. But not fruit or veggies. Never those, if he can see them.
This is where a lot of creativity and imagination are important. I've dreamed up an infinite number of ways to pump my kid full of fruits and vegetables without him gagging on them. Purees!
I'll be sharing my I Spy Veggie creations as I dream them up, but only if they are successful! And by golly, were these Spinanaberry muffins a hit! My husband came up with their awesome name.
I've combined pureed fresh bananas, blueberries and spinach leaves into these powerhouse treats. Although they can hardly be considered a treat, unless you've thrown in extra chocolate chips.
This recipe can also be made vegan. Sub out the eggs and butter with oil, avocado, more banana, applesauce, etc. Enjoy!
Ingredients
2-3 bananas
1 cup of blueberries
1 cup of spinach
2 eggs
2 cups of flour (I mix flours (bean/quinoa/coconut/almond))
1 cup brown sugar (I used half brown/half coconut sugar)
1 teaspoon baking soda
1 teaspoon vanilla
3 tablespoons yogurt (I used plain whole milk yogurt)
1-2 tablespoons ground flax seed (or ground chia seeds)
1/2 cup softened butter (I used grass fed)
1/4 cup almond meal
Optional: 3/4 cup chocolate chips
Instructions
Preheat oven to 350°
Add banana, blueberries, spinach and eggs to food processor. Blend until smooth.
Pour into large bowl.
Mix in all other ingredients.
Pour into greased muffin tins.
Bake at 350° for 20-25 minutes, until firm and slightly browned.
http://pocketfulofpebbles.com/sneaky-veggies-spinanaberry-muffins-4/
This is a recipe that has been loosely based upon this one from "Where's the Beef?" http://herestheveg.blogspot.com.au/2008/12/december-7-2008-vegan-sausage-rolls.html?m=1